We are an award winning architectural firm that works hard to develop stunning pieces for our clients. With more than a decade of experience, we can work with multiple forms of architecture. In addition, we make sure the most skilful architect London has is there helping you to meet your goals.
One question many people ask us is whether a pitched or flat roof is better for an extension. However, the answer is not straightforward. It depends on multiple factors. Personal preference also plays some part in the choice. To help you make a decision, we are going to compare the two styles.
Practicality and usability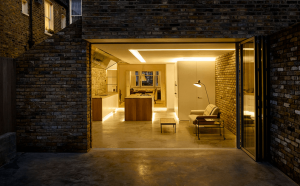 Pitched and flat roofs both have advantages in terms of these key factors. There are situations when one design will be a better option than the other.
A roof with a pitch design tends to be more popular in relation to extensions. The design permits you to use a vaulted ceiling for the new space. Pair this together with some roof lights and you can add to an open plan layout. You can produce a better feeling of volume, making everything seem more inviting and bigger.
Flat roofs do have their own advantages here. Glazing features add to the open feel plan. However, there will be restrictions with the styles and sizes of roof lights. The flat roof lanterns and windows also provide a large degree of flexibility. They can offer far bigger glazing features too. This enhances the potential for natural daylight to enter your house.
Maintenance and durability
As for these factors, pitched roofs provide the benefit of needing minimal maintenance. Post-autumn gutter cleaning is wise and you should clean the roof tiles every few years for aesthetic reasons. These roofs are typically more durable too since they use more robust materials.
With flat roofs, the general maintenance is one of the downsides. You need to regularly check the roof and it will need more frequent cleaning as well. There are also specific flat roof materials like EPDM that are vulnerable to punctures. But, the right design can still be very useful with some extensions. It is also low cost.
Choose a roof design with a top architect in London
At Coffey Architects, we know how to handle every part of the building. This means we can focus on areas like the roof if you would like us to. Our help here can ensure that your extension adds as much value to the property as possible.
With the greatest architect London has by your side, things should progress swimmingly with your project. So, if there is anything we can do for you, please don't hesitate to contact us.