The type of roof covering you choose is important for several reasons. Firstly, it will have an impact on the aesthetics of the whole building. There may even be rules that you can only use certain materials because of the character of the area. Then you also need to think about performance, structural integrity, and maintenance. As a top architect London clients can trust, we would love to help you explore the different options.
Tiles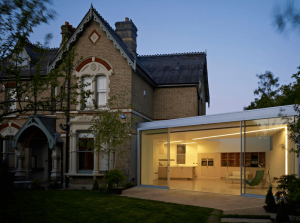 The most common option for roofs is tiling. However, there are plenty of different types to choose from. It is important to look at these options to see which will be best for you.
The classic choice is clay or concrete pantiles or interlocking tiles. They are the favoured option for most homes with pitched roofs. People like the style and they also tend to be one of the best choices in terms of the cost. The only downside is they may not be the best type for complex roofs.
Plain tiles are one style some people prefer if they want a more traditional look. The high end options are handmade so every single tile is unique. Using them can give the roof a really distinct, rich look.
Yet another option for tiling is to use slate. Again this can be a great choice for traditional looks but it can be equally good for contemporary properties. You need to be careful choosing materials here though. The quality can vary widely and some products won't be solid slate; instead they could be reconstituted or use a fibre cement or concrete.
Thatched roofing
When you imagine a classic English cottage you will probably think of a thatched roof. It is a really stunning choice that can also be very eco-friendly. However, there are few experts who specialise in to today. It can also be costly to maintain.
Green roofs
This is a type of roofing that becomes more and more popular each year. It is literally a living roof with grass and plants growing on it. The aesthetic benefits are clear to see, whether it is a building in the countryside or in an urban area. It is harder to design the roofs to ensure they are waterproof and stable. However, they can offer environmental advantages.
Metal roofs
One of the most modern options you can choose is metal sheeting. There are lots of choices here in terms of the type of material, colour, design, and more. You can even find materials that look like traditional tiles if you want that look with the savings and benefits of metal. The sheets can be very economical, easy to install, and require little maintenance. You can also combine them with insulation to enhance the thermal performance.
Discuss the options with an architect in London
Coffey Architects is a team with a great deal of experience. Everyone here has a passion for helping clients to create the perfect designs. This includes choosing the right type of roof. We can look at all the options and consider things like local rules. We also think about the overall cost, from buying materials to maintaining and replacing them.
So, if you have a project in mind and want some creative advice, speak to us. We are a proud architect London clients rate highly. You can expect to have a wonderful experience when you work with us.