With the right design a staircase can be one of the most impressive visual elements of a property. It does not need to be a boring after thought. Instead, it can improve the flow and character of the building. Whether you are designing a new property or want to redevelop an existing one, changing the stairs could be a great choice. If you are thinking about this and want to hire an architect, London has few better than us.
The regulations
Before you begin designing though, you need to know about the regulations. You need to consult Approved Document K to find out how to design the staircase. It includes details such as the maximum rise, max pitch, and specifications for handrails. This can ensure you design a staircase that is safe to use.
The placement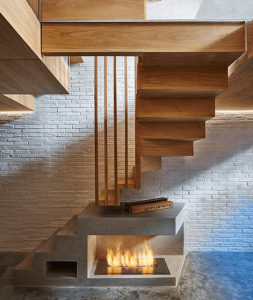 While the size of the staircase is the most important thing, the placement is crucial. You need to get the sizing right to ensure the stairs will be safe. However, you need to place the staircase in the right location to ensure it does not block light or become a hindrance to the layout of a space. At the same time though you need to make sure it is accessible and meets its needs as a fire escape route.
In too many cases the stairs are placed very poorly. What this can create is a dark, dimly lit hallway or a room when you can't use half of the space. Instead of this, you should be planning where you want the stairs early on. Select a location where they can be an attractive visual element.
Configurations
It can be useful to look at different configurations of staircases. This can help people to consider many options that could ultimately affect the placement. At first they may only think one option is possible. However a different configuration could unlock a completely new world for the placement. You should also consider how this will fit with the interior design.
Features
When you are designing a staircase you should think about all the features you want. It can be far more than just a simple way to get between floors. You can also have other things like storage, lighting, runners, and more. You can even choose some really interesting features like seating, or creating a room beneath the stairs.
Ask an architect in London
Coffey Architects is a company that knows how incredible a beautiful staircase can be. In fact, you can see this in a number of our projects. Several times we have made it a central part of the design of the entire home. This helps to bring more light into the property and really opens everything up.
So, if you want an architect, London has few with as much passion for delivering dream homes as us. You can get in touch today to tell us more about what you have in mind for your home.