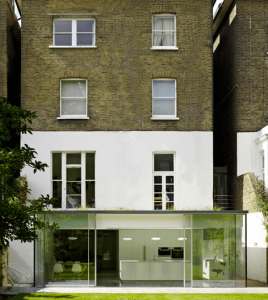 We have an award winning team of architects London residents can always rely on in their time of need. Some people require a simple extension. Others will be after something a little more complex. We are here to help you along every step of the way.
One of the harder choices for homeowners is picking between a one, two, or three storey house. Those who reside in a home with just a single storey will know there are numerous advantages to doing so. However, three storey structures don't get as much attention. We are going to change all that by discussing why you should consider this form of living for yourself. In many cases, it does not hurt having a few extra floors.
Size matters
To begin with, there is the size to consider. One of the leading advantages of constructing a multi-storey house is the living areas. They are nearly doubled here, or tripled depending on how many floors you end up with. This is when you compare the current building to a single storey one on the same plot of land. Furthermore, there is the choice to build upwards to take full advantage of your garden space. This is by not having to erect a wider house to get a suitable amount of living space. If you are interested in building your own home, be sure to call the finest architects London has.
Dividing spaces
The thing with multi-storey houses is that there is a superior division of living space. In the majority of instances, there is going to be a divide between the living areas and bedrooms. This is because the majority of sleeping spaces are upstairs. With areas like the living room, dining room, and kitchen, they usually remain downstairs. Consequently, there is less chance of you being disturbed while sleeping. Moreover, multi-storey houses tend to supply additional options for design and layout.
Look at those views
Three storey homes also let you take advantage of the views. There are properties out there with the potential to provide wonderful mountain and ocean views. If yours does too, you will want to build higher. Doing this will let you maximise those views.
In truth, the classic house layout is something that is being flipped around. More individuals are opting to have their living spaces on the higher floors. This includes the kitchen, living room, and dining room. That way they have the best views.
Talk to top architects in London
At Coffey Architects, we have a team that fully commits to every project. This is why we have such a great reputation. In addition to suiting your style, we will ensure your design is innovative. Not to mention, we can assist you with matters like project management and planning applications too.
If you would like to work with some of the best architects London has to offer, you are welcome to get in touch with us. You can also browse our main website to view our work.