With architecture, one of its main draws is the versatility. You can be creative with the design to get exactly what you desire. Our firm helps you to realise and expand your vision. We can provide you with a series of architectural services that cover all angles. In addition, we have the most talented architects London has, so you can look to us for new ideas.
Something you might be looking to create is a home library. This can be a calm, relaxing space for a person to revitalise and revive. Even in today's digital landscape, it is nice to enjoy a book at your own leisure. The books themselves are also deserving of a lovely setting, especially if you want to display them. If you are not sure how to approach such a project, allow us to offer you some advice.
What space to use?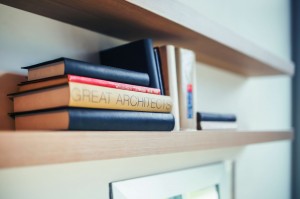 One issue you may have is deciding what space to use for the library. Ideally you should designate book storage solutions to a single room so everything is together. It will be more organised than having shelves spread throughout the home. You should also think about the lighting and make sure your books won't be in direct sunlight.
If you don't have a full room you can use as a library, you should consider incorporating it into an existing one. This is an excellent way of saving space in your property. It could be a great addition to a home office or second bedroom.
Maximise those unused areas
You should also make full use of the space. When you think of a library, it is likely you will see row upon row of books. These are ones standing in columns going from the floor to the ceiling. This is perfectly fine as long as you are not wasting space. If you are, you need to think outside the box and go for something bespoke that works for your property.
Colour
Something else you may want to do is introduce colour. A home library should be a welcoming and relaxing spot. Yet, this does not mean you can't get a little bold with the colours. Make a room that is full of character and personality. It will make it more enjoyable to sit and read.
Design everything with top architects in London
Coffey Architects can help you to create your own home library if you desire one. We have experience working on libraries, having done so in previous projects. In fact, we have even done work for universities to create stunning facilities. Therefore, we are the ideal people to assist you.
We work very hard to make sure every project is amazing. Not to mention, you will have the talent and guidance of the finest architects London has at your disposal. So, if you would like to work with us, make sure you get in touch.