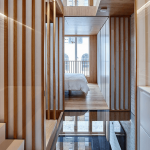 The sleeping spaces in a home should be comfortable and suit the needs of the inhabitants. When you are designing the property it is a good idea to take time to get them right. We would love to help with this. As one of the top architects London has and a team with a lot of experience creating homes, we can excel here.
Below are a few ideas you could use to help you design the perfect bedrooms.
Think about nature
One thing that people find very comforting is being close to nature. It can be a good idea to remember this when you design the bedroom. You could do a number of things to incorporate it into the space. For example you could choose natural materials and colours. Light shades of wood are a great option because they add warm colours.
Separation
The last thing you want is for bedrooms to be noisy. In fact you should design the home so they are as separate from busy living rooms and corridors as possible. Some careful planning with the layout here can really help, creating separation and ensuring the bedrooms are quieter and more relaxing.
Interesting design elements
There are lots of different ways you can enhance the design of bedrooms. For example you could have cladding on the ceiling rather than leaving it with plain plaster. You can also pick materials to create interesting contrasts.
Ensuring privacy
Bedrooms should be private spaces where you can go at the end of the day to sleep and recharge. There are many things you can do to improve privacy. However, that doesn't mean you need to be heavy handed with curtains and blinds. There are lots of other choices including wooden shutters and shades.
Clever storage
Too much clutter in a bedroom can be very distracting and actually stop you from getting enough rest. To overcome this you should make sure you have enough storage. There are lots of unique options you can choose to make the most of the space. This could include under the bed and up walls to make the most of the height.
Talk to architects in London about your home
Coffey Architects has had the pleasure to help many clients design their dream homes. A big part of this has been creating cosy bedrooms that work for them. We can consider their wishes and devise the perfect layout.
So, if you have any questions for architects, London clients can rely on us. You can also view our website if you want to see some of the homes in our portfolio.