Our whole industry has been working hard to improve the architectural world over the last several years. This is something our team has taken to heart on every project. We do so by designing thoughtful commercial and residential structures that can offer long term value. We make unique pieces of architecture, ones that stand out from the normal designs you see each day. Not to mention, we have the greatest architect London has overseeing these projects.
Chimney systems are an integral part of many homes. For one thing, they add a wonderful sense of character. In addition, they are actually critical if you intend to enjoy the advantages of a woodburning stove or real fire. Our intention for this post is to discuss some of the important details with these systems. Specifically, we are going to focus on the materials people use most commonly to create them.
The materials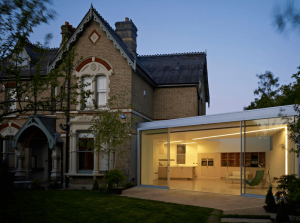 Both flues and chimneys come in a plethora of materials. Examples include plastic, stainless steel, ceramic, concrete, clay, and pumice. The latter three are known collectively as masonry chimneys.
Plastic is a very interesting option. However, you are only able to use them with low-temperature condensing appliances. They may not have the heat resistance to withstand hotter systems.
Stainless steel chimney liners and systems are the most popular choice for gas-fired installations. This is because the metal is strong, long lasting, and has good heat resistance.
Pumice and clay chimney systems are appropriate for use with oil and gas, multi-fuel, and wood appliances. As a result, they tend to be the most common choice overall. Factory-produced pumice, ceramic, and clay chimney installation are usually reserved for new builds. This is because they usually demand strong foundations to support the weight. However, there are many cases when you can retrofit them too. You just need to ensure the existing foundation can bear the load.
Whatever type of project you choose, it is always important to ask an expert to design your chimney. They can look at the appliance you will be using and decide what would be the safest option. Plus, they can give you advice about things like upkeep. You need to think about this as poorly kept chimneys can be a big fire hazard.
Work with a reliable architect in London
At Coffey Architects, we take great pride in the work we do, no matter how small or big it is. Clients come to us for all sorts of different reasons. Some are simple upgrades whereas others have very complex proposals. Whatever your needs are, rest assured we will give you the resources you need to succeed.
So, choose us to have the finest architect London has on your side. Contact us today if you require any help at all.