At Coffey Architects we work very hard to make every single project a success. This focus has helped us become the team we are today, one that cares for our clients as well as the quality of our designs. We are happy to stand among the top architects London can offer and produce stunning properties.
Revealing the RIBA London Award winners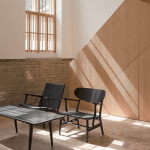 It was a very proud moment when our Apartment Block project got a place on the shortlist for the 2021 awards. We were even happier at the end of last month when RIBA chose the winners. Incredibly we were one of the recipients, joining 45 of the other projects in winning awards.
There are some truly amazing pieces of architecture on the list of winners for this year. They include:
English National Ballet
The headline project from the awards is the new home for the ENB in Canning Town. The massive new facility has a wonderful design and some incredible facilities, including eight rehearsal spaces. In addition it is the first high profile move to east London for a cultural institution. The project was also named overall London Building of the Year.
The new White Hart Lane
Tottenham Hotspur's new stadium has won critical acclaim all over the world and now also has a RIBA London award to prove it. The design features modern facilities, an entire brewery, feature bars, restaurants, and even a street food style market.
Bobby Moore Academy
The new secondary school got a lot of praise for how the design raises the standard for attention to detail. It also creates a fantastic community for education.
Manhattan Loft Gardens
London is home to a number of residential skyscrapers. These buildings tend to stand out because of their height and scale. Sadly, there is always a risk that these projects will be too homogeneous. This can't be said for Manhattan Loft Gardens. The block has a fantastic design with a unique facade that responds to the sunlight. The design won recognition with a RIBA London award.
McGrath Road
Some of the very best projects push the boundaries for what is possible. This project does just that and showcases that housing can be affordable but still have a world class design.  The building is creative but not at the cost of making the homes unobtainable.
The next step
All 46 RIBA London Award winners will now move on for consideration for a national award. These successful projects will be revealed on 9th September. Any project that wins one of these awards will then be in the race to win the Stirling Prize, the top award for architecture in Britain.
Working with leading architects in London
Coffey Architects is a team you can rely on if you are planning any kind of project. We have the skills to design everything from private homes to schools. More importantly, we can handle new builds, renovations, extensions, and more. You can trust us to celebrate your ideas and then deliver spaces that suit you.
So, if you want to work with creative, passionate architects, London clients should speak to us. You can come to us with designs in mind or a simple brief.