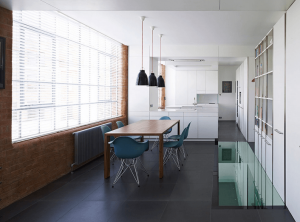 Since our establishment in 2005, we have been following our passion for innovative architecture and design. We have had the chance to help many individuals in creating something that matches their personality. Furthermore, we have been able to do this by offering them highly competitive rates. If you are after the finest architect London has, you have come to the right place.
Home renovations can be both challenging and exciting. It might appear that there are too many possible upgrades to work on at any one time. It is not unheard of to put jobs off until you have to do them. However, there are signs out there that you should not ignore. By delaying, you could end up spending more over the long term. Should you notice any of the following things, you need to start preparing to renovate.
Flooring trouble
You will have to get to work if your floor requires a replacement. Top tier flooring can make a property feel more comfortable and luxurious. No matter what they are made of, offering the floors some care and attention can substantially increase your home's value.
There are many things to look for here. For example, tiles in the kitchen and bathroom might begin detaching and lifting. In addition to being unsightly, these are tripping hazards. Warped timber flooring and threadbare carpets also need attention.
Too crowded or too empty
A home that feels too empty or overly full is also a sign you need to renovate. Your house could have been the ideal fit when you initially moved in. However, a lot can change in a few years or even just a couple of months. Even when you declutter, there still might not be sufficient space.
To overcome space issues you may be able to knock out any walls you don't need. This can help to produce a wider open space. You could also look at things like extensions or a loft conversion. In some cases a change in layout can help too.
For those with too much room, fill some of the space in with artwork or statement furniture. Your goal should be to make your home a reflection of you rather than an empty space.
Choose us as your architect in London
At Coffey Architects, we always aim to meet and exceed the expectations of our clients. We have completed a wide variety of residential and commercial projects. Not to mention, our team helps people who need a bit of extra support in getting their projects off the ground. Some may require planning permission, and we work hard to get that for you.
So, if you would like to work alongside the greatest architect London has, please get in touch. We are always happy to advise about any kind of work.