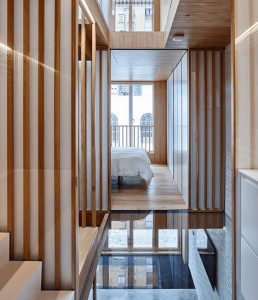 More people these days have the desire to make their properties stand out. Ours is a team that can help you do that. Using our wide array of services, and the best architects London has, we can create something distinct that matches your vision. From planning to construction, there is nothing we can't do for you.
Have you ever walked on a glass bridge at a shopping centre or stepped on a stairway with glass stairs? If so, then you are aware that it is not for the faint of heart. The floors work wonders at drawing the attention of onlookers. When you use them in the home, they can offer a contemporary, dramatic twist. But, these are not the simplest floors to pull off. If you can do it, you can enjoy an array of benefits.
Insulation
For one thing, they provide outstanding insulation. Glass isn't a good heat conductor. Thus, it is an excellent insulating substance. This flooring shall preserve the heat inside your property and save energy. Glass floors might cost a lot, but you will be able to make your money back over time with lower heating bills. Furthermore, the flooring is waterproof, meaning you don't need to worry about wear.
Cleaning
It is also incredibly simple to clean the flooring. You will be able to have a sparkling glass floor simply by giving it a swift wipe over. Moreover, your glass shall always be easy to see through. It will be interesting and attractive without you needing to put much effort in. The more people that use the room of course, the more you will have to clean the floor. But even if it is the busiest area, it shouldn't take much more than a regular brush and wipe.
Work with passionate architects in London
At Coffey Architects, we are familiar with every part of the building. As a result, we will be able to offer you top tier advice on and assistance with the flooring and everything else. Being a RIBA charted firm, we strive to meet the highest standards in all of our projects too.
So, if you would like to know more about the services we provide and want to work with the finest architects London has, please give us a call. You can trust us to look at any part of a project, including any challenging design features.