As some of the most popular architects in London, we have the honour to work on all kinds of projects. From smaller jobs like home improvements to bigger works like designing whole buildings from scratch, we take on everything. We often have project briefs and requests that encompass different design styles. Sometimes it is necessary to match the surrounding architecture. Regardless of the situation and what you are looking for, our team can help.
What does contemporary architecture involve?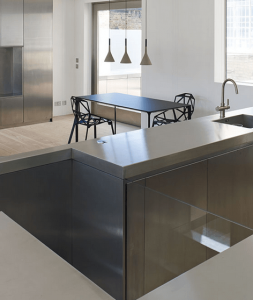 One of the most recognisable parts of this style is the use of asymmetrical features, geometric shapes, and natural building materials. There is a focus on simplicity, function, and flexibility with interiors. This is as well as an abundance of light and airy spaces.
The contemporary style is a lot of minimalism with clean lines. Houses tend to have a bold appearance and a distinctive appeal to anyone looking from the street.
When constructing these buildings, there is a focus on making them flexible for the user. Plus, as we said earlier, there should be great levels of natural light. There is a big focus on the orientation of the building with this style. This ensures good lighting and ventilation.
Various materials such as marble, stainless steel, concrete, and timber are common with contemporary styles. These help to create different looks.
Lights in contemporary buildings are chosen and placed to be both attractive and dramatic. With this style, architects look to create spaces that look captivating both inside and out. This can include impressive landscaping and large windows to transition between the spaces.
Designing with top architects in London
Our team is here to help you and consists of some of the finest architects you could hope to work with. Make sure you take a look at our site and some of the previous projects we have had the pleasure of working on.
If you have any questions for some of the best architects London has, get in contact with us. Your project is in great hands when you choose to work with Coffey Architects.