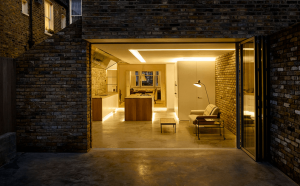 Building new structures is a challenging business. For a company with as much experience as us however, things can progress very smoothly. We have had the chance to take on a myriad of residential and commercial projects over the years. Each time, we work closely with our clients to ensure we meet all their specifications. In addition, we give them all of the resources they would expect from the finest architect London has.
With lighting design, the possibilities are basically endless. You have a multitude of fixtures, locations of light, bulb options, and more. With so much choice, it can take a long time to decide what to go with. Thankfully, we can help you by talking about some of the available options. Read on to learn more about two of the best ideas.
Recessed lighting fixtures
An electrician will directly install these into your ceiling. They supply a flush exterior that is ideal for compact, classic or modern spaces.
Rooms with small ceilings gain the biggest advantages from these particular fixtures. The flush style aids them in preserving the height of the area because there is no fitting hanging down and taking up space.
These lights are incredibly versatile too. You can use them in bathrooms, living spaces, and kitchens.
Fixtures for higher ceilings
Up next, we have track lighting fixtures. This style includes several individual bulbs on some kind of track. Normally, it is a metal rail. This is a sleek option that has a really modern look. As a result you typically find the lights in contemporary kitchens.
These fixtures are also extremely versatile, like their recessed brethren. You are able to angle the individual lights when you wish to illuminate different parts of the room. This can almost give a spotlight effect.
It is preferable to use the track lighting in rooms with high ceilings. In spaces with lower ceilings, they can appear out of place.
Talk to a top architect in London about lighting options
At Coffey Architects, we can help you with every detail of your project. This is even true for smaller elements like lighting. We will look at all the possible solutions and then help you decide which one is best for your design and the use of the space.
So, if you have a project in mind, choose us and we will make sure the best architect London has is there to help. If there is anything we can do for you, please don't hesitate to contact us.