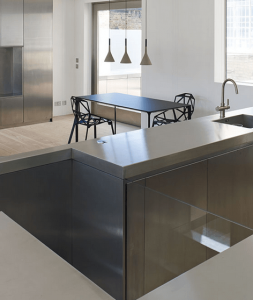 Ours is an industry that requires clients to work with people who have the best skills. If you find someone who is not quite up to the job, you can run into various problems later. Fortunately, we employ the greatest architects London has to offer. From residential and commercial all the way to industrial, there is no type of project that is too much for us. We will provide the same great service and ensure the work is professional.
In architecture, it is common for homeowners to make changes in order to increase the property value. We often receive questions about how you should do this. In truth, there are plenty of strategies available to you. In addition to boosting the sale price, these options can create a living space that is more comfortable.
Update the kitchen
The first option we will talk about is updating the kitchen. Make some changes by getting rid of those splash-backs, changing cupboard handles and getting new doors. Doing so shall allow you to give your kitchen a contemporary feel and look. In addition, you can do this without breaking the bank.
Converting loft space
You could also convert your loft. By doing this, you may be able to create a chill out room, an office, or an additional bedroom. The extra living space will really improve the value of the home. It also enhances the quality of life the new inhabitants will have.
Open spaces
Something else you could do is knock walls down to create open plan living areas. This can offer lots of benefits, including making the spaces bigger and brighter. Moreover, it produces a family friendly spot that you can use to entertain friends too.
Upgrade your windows
The last thing we will discuss is changing the windows. Replacing the old designs with double or triple glazed ones shall augment the home's overall look. At the same time, they will retain far more heat and make the property more energy efficient. With bigger windows, you will also have more light, which will lead to more of a modern look.
Discuss a project with some of the top architects in London
At Coffey Architects, we are more than capable of helping clients with increasing the value of their homes. We will look at what you can do and what is possible with the budget you have. We are creative and have lots of experience, meaning we can guide you and explore ideas.
If you would like the best architects London has to take care of everything, please give us a call. Whether it is a small home or a huge property, rely on us.