Everybody wants a home that is beautiful inside. However, you also don't want to ruin this by having bad views. Instead, you want a great view for each space so it adds even more value. Coffey Architects can help you to achieve this. We have a lot of experience working in different locations so we know how important views are, whether it is country, coast, or an urban area. Work with us and you will have help from an architect London clients love.
Get the floorplan right
When it comes to getting the best views, the first thing you need to do is ensure you have the right layout. It is impossible to have a nice view if the orientation and shape of spaces is wrong. You should be thinking about how you can arrange the property so you get the best views in as many rooms as possible. You can be really creative with the layouts but make sure you also consider privacy.
Window choice and placement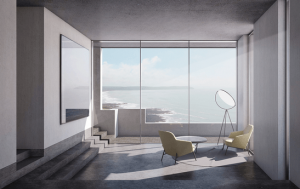 Your decisions when it comes to the windows will have a big impact on how good the views are. You may want to choose larger panoramic ones so you give rooms a really wonderful backdrop. Bay and bow designs, floor to ceiling models, and even bi-folding doors can work very well.
You need to be careful with where you place the windows. Ideally you could have them to allow great views in several rooms. However, you must be careful to ensure you don't cause issues with privacy or security.
What you should try to do is have your windows so the views focus on the best points on the backdrop. So, for example, if there is a lake, beach or forest, make it so people can look out at it.
Cohesion
Finally, what you should try to do is get cohesion between the views and your interior design. This will make the whole thing far better. For example, you can mimic parts of the backdrop in your interior design. You can use similar tones or textures. In addition, you can choose natural materials like wood and stone to get a great theme.
Talk to an architect in London
Coffey Architects appreciates how much value good views can add to any kind of property. We can design with this in mind, ensuring we get the perfect layout and choose the right windows. Our team can also offer lots of advice so you get the perfect interiors.
If you want to talk to us about a project, please get in touch. We are proud to be one of the top options for an architect in London. Our skills and passion for creative design make us stand out.