One of the things that make London a very rare city is the combination of different types of architecture. It is wonderful to see and means there are lots of great sights to look at. The housing market is particularly diverse. One of the most popular styles here is mews housing. As one of the best architects London has, we know all about this style of home. We want to take a closer look for those people who don't know much about it.
History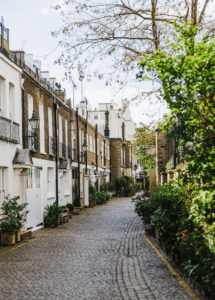 Mews have a very interesting background. The streets were originally routes hidden away behind large mansions and long terraces in the 18th and 19th centuries. The properties lining them were stables and had accommodation above for servants.
The growing popularity of the motor car in the 20th century brought big change. As a result less and less people had horses and did not need stabling anymore. Changes in society in terms of having servants also meant the accommodation above was no longer necessary.
The now empty mews buildings became popular as garages and spaces for different businesses. However, they still had a bad reputation for being dirty, gritty and run down.
A popular style of home
The big change came in the 1960s. Amazingly, the driving force for the change was racing drivers. They found that the properties were rather cheap and would allow them to live above their cars.
Soon people began choosing the mews housing because the properties were practical and charming. A renovation could turn an old building into a luxurious home full of character. The cobble roads and privacy were also aspects that people grew to love. In addition though, many of these mews were now in fantastic locations with easy access to lots of amenities.
Today mews are some of the most popular types of housing in London, especially in areas like Chelsea. It is definitely a style of building you should consider.
Architects in London
At Coffey Architects we know just how good a mews home can be, whether it needs renovation or has already been updated. If it is the first, we can offer a great service. This will celebrate the character and history of the property but ensure the home suits your needs.
If you want to talk to top architects in London, we are the team for you. In addition, you can view some of our work by visiting our website.