When they choose us as their architect, London clients know they are making the right investment. We provide a huge amount of value, whether it is creative designs, simplifying planning policies, or managing the build. This all shows in the final buildings we create.
Latest UCAS data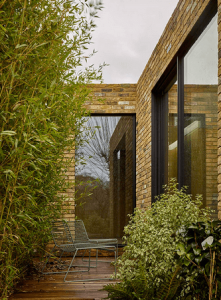 Last month UCAS published their data for university admissions for this year. The headline finding for architecture is that there was an increase in the number of women who got a place, up to 2,900 from 2,585 in 2020.
To put that number into perspective, it exceeded the number of men who got places. While their number also rose from 2,575 in 2020 to 2,730, it means more women will be beginning their education in the architecture field. This is even more impressive because a decade ago the intake was in favour of men, with 57% of all starters.
It is a very positive sign for an industry that is working hard to be more representative of society. However, there is still a lot of work to do with ARB figures showing that only 29.6% of the UK's qualified architects are women.
The president of RIBA, Simon Allford, was happy with the figures and how many more women want a career in the industry. However, he said more needs to be done to reduce drop-off mid study and mid-career. These are two things that can affect women more than men.
More students
The UCAS figures are also great because they show that overall the number of architecture students is increasing. In 2020 there was an intake of 5,160 learners. This year it was up 9% to a record 5,630.
In a broader sense, the number of students applying for any subjects under the banner of architecture, building and planning was also up. Two years ago there were 43,190 applicants. This year the number was up to 46,980.
The number of overseas students getting places on architecture courses at UK universities has also grown. There was a big drop in this over the last few years because of COVID. However, EU students are up to 510 (from 470) and non-EU arrivals are 775 (up from 750). The majority of these (60%) are female too.
Accessibility
There are also plans to try to make the professional more accessible. One of the issues is it can have a very high entry tariff. This can deter some people from pursuing a career in architecture. The RIBA president would like to see more alternatives, including things like apprenticeships. Manchester School of Architecture is even planning a one year pre-degree foundation in the subject with lower entry requirements.
Working with a top architect in London
Coffey Architects is a name you can rely on if you want to create a stunning building. This could be a home, a commercial space, a university library, or anything else. We have the creativity to take any brief and elevate it.
If you want to work with a top architect, London has lots of options. However, we offer a great service and award winning results. Contact us to learn more.