We are seeing the creation of more and more smaller houses in the UK, especially in big cities. Often it is the only option because of the lack of space, high prices, and excessive demand. Luckily, with the right designs even tiny properties can be comfortable. You can ask us for advice about this and get an input from a creative architect London clients have come to rely on.
Take inspiration from Japan
While tiny living spaces may be uncommon in the UK, they are a norm in Japan. Many properties are small by our standards, especially in the biggest cities. This is because space is even scarcer. A huge majority of the available land is mountainous so it is not suitable for building on. Then another large part of the country is flat and set aside for agricultural. Prices for the remaining space can be excessively high, so people often choose smaller homes.
The upside of this is that Japan is full of great examples of tiny homes that have been optimised to make the most of the space. With the right design, even a single room apartment can be comfortable and able to satisfy the needs of the inhabitant.
What to do?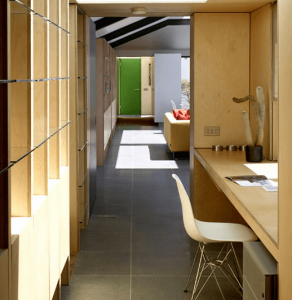 There are a number of different creative things you can do here. For example, you can design for privacy while also connecting rooms and making them multifunctional. It is a really good idea to choose finishing materials that are strong but as thin as possible. Steel frames are a great choice here for things like stairs and handrails.
Another interesting tactic is to connect small interior spaces with larger external ones. It can make the small rooms feel much bigger, airier and brighter. Plus if you choose large sliding doors you can open the interior up when it is warmer.
On top of this you can use tricks to eliminate any sense of narrowness. There are several ways to do that, including using 3D gaps and holes in the visual fields. It is a good decision to use light wells and skylights too because brighter spaces feel bigger.
It is also a good idea to play with the positioning of windows. While they are most essential for lighting and ventilation, in the right places they can harmonise with the wider area. This can make the internal space feel larger, especially if you have a nice open backdrop out of the window.
Finally the design should highlight the most valuable things. If you only have space for a few touches, make them really good ones like amazing wall art or feature furnishings.
Design with a top architect in London
If tiny living is something you have in mind, you should get advice from the right architect. Ideally you will want to talk to them about all of the important details, including the dimensions and orientation of spaces, lighting, ventilation, and materials. An expert will take all of these elements and create a wonderful design for you.
Coffey Architects is the best partner here. We have a fantastic portfolio of projects, from large homes to smaller flats and apartments. Whatever the size of the plot or space, we can maximise it for you.
So, speak to us today and choose the most dynamic architect London can offer. You'll get expert support with every aspect of the work.