One of the great things about architecture is buildings can celebrate our history. However, it can be lost with the demolition of these structures. That is why Historic England and similar organisations look to preserve so many of them. Sadly some of them still disappear. Our focus as an architect London clients can rely on is to help wherever we can. This could be with renovations or a change of use.
Illegal redevelopment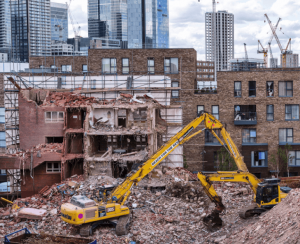 One of the most high profile losses of an historic building in London happened in 2015. At the time a developer chose to demolish the 1920s Carlton Tavern in Maida Vale. Their plan had been to convert the pub into 10 flats. However, the proposal did not get planning permission due to the historic nature of the building.
In most cases failing to get permission would have put a stop to the plans. However, the developer simply chose to demolish the building entirely. Incredibly they did this just a matter of days before Historic England could give the pub a Grade II listing. It seems the developers were hoping to avoid the extra red tape this would cause.
The response to the demolition of the pub was incredible. Local residents campaigned against the redevelopment and the local council led a legal battle against it. Ultimately, the judge's ruling was that the developer would have to rebuild the pub exactly how it was.
Rebuilding
The project to rebuild the Carlton Tavern was naturally incredibly challenging. After-all, the architect and contractors only had a pile of rubble to work with. Luckily they were able to rescue many elements of the structure, including the historic bar and fireplaces. They even chose to reuse the original bricks and tiles where possible.
There were some fears that the project would be impossible. However, the architect and contractors were able to do it. Work began in 2017, rebuilding the pub as it once was. The only difference is a change to the internal layout. The project is now complete and locals are eagerly awaiting the day when lockdown measures can ease more and it can reopen.
Speak to an architect in London
The success of the Carlton Tavern project is really great news for the architectural industry as a whole. It shows what is possible even if developers choose to overstep and demolish properties when they should not.
Coffey Architects is a team that appreciates how important it is to save historic buildings. In fact we have taken on a number of projects that involve them. The work has included things like renovations to create new modern interiors, additions, and even full redevelopments.
So, if you have this kind of project in mind and need an architect, London has few teams that are as good as us. You can contact us to learn more about what we can do or browse our website.