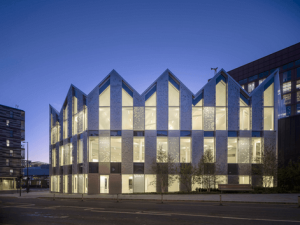 Our goal to become the top architect London has to offer is one we approach with creativity and passion. We look at every project with open eyes and no preconceptions. As a result, we can create designs that our clients will love.
Being in London is fantastic if you come from creative industries like architecture and design. The city is one of the best hotspots in the world for exploring new ideas. You can see this in the architecture, the educational sector, art, fashion, and the tech industry. The city is also now home to the 2021 RIBA Stirling Prize winner, the award given to the best new building in the UK.
Town House – Kingston University London
The brand new university building got a wonderful response from the judging panel. They gave it some glowing reviews, including referring to it as "a theatre for life". The design is warm and dynamic, seamlessly combining different facilities and spaces. It is also light and has very few barriers to both students and members of the public.
Combining spaces
One of the highlights of the building is how spaces inside can coexist without causing problems for each other. This is a big challenge because the facilities have such different needs. For example there is a library and quiet study rooms as well as a dance studio and performance spaces. They have very different needs in terms of noise. In many cases there could be a conflict. That does not happen here though.
The building also connects seamlessly to the wider community. The exterior provides a great look at the inner workings of the structure. Members of the public can use parts of the property, making it a community asset rather than just a student building. Inside the spaces also create a sense of belonging, encouraging social interaction and relationship forming.
The shortlist
The Kingston University London building won the RIBA Stirling Prize over stiff competition from five other projects. They include Cambridge Central Mosque, Windermere Jetty Museum in Cumbria, and Tintagel Castle Footbridge in Cornwall.
Working with a top architect in London
All of the projects on the shortlist are inspirational and help to push the standards in our industry. This is something we always try to do at Coffey Architects in order to ensure the buildings we create provide as much value as they can.
So, if you are thinking of a project and would like to work with an architect London clients love, speak to us. It could be a university building, a commercial space, a home, or housing; we can do it all.