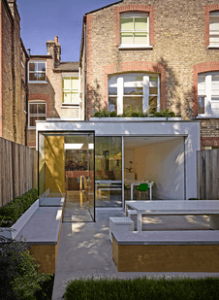 Our top notch architectural team is one that consists of the finest architects London has available. Using their experience and talents, we are able to help our clients with all sorts of plans. Whatever it is you have in mind, we will work hard to make it a reality. We can also offer creative solutions to any problems that arise.
Designing the garden is just as important as working on other areas of the house. You will want your outdoor space to look as appealing as possible. However, you may be lacking inspiration. There is no need to worry; we have some advice on the subject that we would like to share.
How to pave it?
Firstly, we will talk about the paving. The style and colour, as well as how you lay it, can give a strong design direction for your garden. For example, white or grey stone laid randomly shall give the area a French country aesthetic. As for silver or black stones in a standard design, you will have the backdrop for a modern, sleek scheme. Golden stone will create an English country feel.
Zoning and screening
Additionally, you should think about how to create different areas in the garden. You need to consider screening parts of the space to produce individual rooms. Make use of hard landscaping such as fences or pergolas. You can also try using plants. If space is restricted, think about zoning parts of the garden. Saying this, it is a viable idea for gardens of all kinds of shapes and sizes.
What you should remember is the garden is an extension of the living and kitchen spaces. This is the case in part since homes are smaller than ever on average. It is also something people can do to get more light into their home. With this in mind, you should be looking at how you can use the exterior spaces effectively and connect them.
Make the most of your gardens with top architects in London
At Coffey Architects, our clients can rest easy knowing that their projects are in the best of hands. No matter what it is you need help with, be it the garden or an interior area, we will give you the help you need. The best architects London has will guide you and make sure you make the most of your property.
So, please give us a call if you have any questions or proposals for us. We will happily look at your ideas to see what your goals are.